25/03/2018
Christophe Orazio.
AR33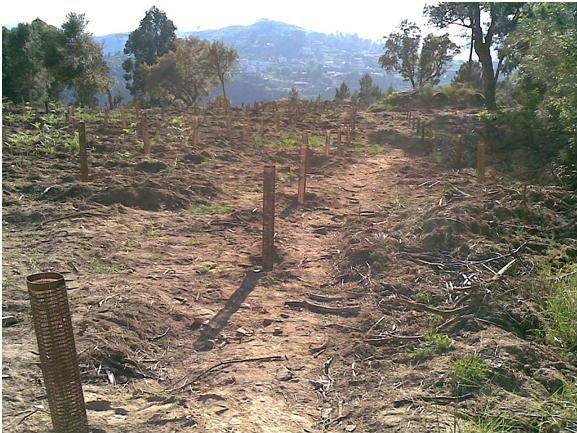 Site code AR33
Location Trás os Montes e Alto Douro
Region Norte
Country Portugal
Local name Vila Real
Partner ISA
Site characteristics
Orientation: NW, Slope:19.0°, Soil :LEPTOSOLS, Bedrock : acid to intermediate plutonic rocks
PH :4.7,4.6
Hydrology
Site is situated in the Douro hydrographic basin. The lower part of site is 5-10 m apart from seasonal water course, which flows through parcel 1
Short History of the site
Le site de l'arboretum est situé sur le terrain de l'Université de Trás-os-Montes et Alto Douro (UTAD), administré par l'Université. , qui a montré un grand intérêt lorsqu'on lui a présenté la possibilité d'installer la structure proposée. UTAD est engagé dans la recherche et l'enseignement en foresterie, de sorte que cette collaboration garantira que les tâches de gestion et de suivi du site seront exécutées avec plus de compétence. L'arboretum est divisé en 2 parcelles, séparées l'une de l'autre par un chemin de terre de 3m de large. Les parcelles sont: -P1, 1,5 ha, précédemment occupé par le peuplement et le pâturage Castanea sativa, avec une ligne d'eau saisonnière qui le traverse; -P2, 1 ha, occupé auparavant par Pinus pinaster. La préparation du sol pour l'installation des arboretums a débuté en décembre 2011, consistant principalement à couper les arbres C. sativa et P. pinaster et à éliminer / contrôler spontanément la végétation. Le site a été utilisé pour la production forestière et les pâturages.
Generalities of the site

Species on the site
N of Prov.
Initial tree N
Acer pseudoplatanus
3
48
Calocedrus decurrens
3
48
Castanea sativa
4
48
Cedrus libani subsp. libani
3
72
Ceratonia siliqua
1
12
Cunninghamia lanceolata
1
12
Cupressus sempervirens
3
48
Eucalyptus globulus
1
12
Eucalyptus gundal
1
12
Eucalyptus nitens
1
12
Fagus sylvatica subsp. orientalis
3
36
Larix decidua
4
48
Liquidambar styraciflua
3
36
Pinus brutia
3
36
Pinus elliottii
2
24
Pinus nigra subsp. laricio
2
24
Pinus nigra subsp. salzmannii
1
12
Pinus ponderosa
2
24
Pinus sylvestris
3
36
Pinus taeda
3
36
Pseudotsuga menziesii
1
12
Quercus ilex subsp. rotundifolia
3
36
Quercus petraea subsp. petraea
3
36
Quercus rubra
2
24
Quercus shumardii
1
12
Quercus suber
2
24
Sequoia sempervirens
2
18
Thuja plicata
3
36