25/03/2018
Christophe Orazio.
AR34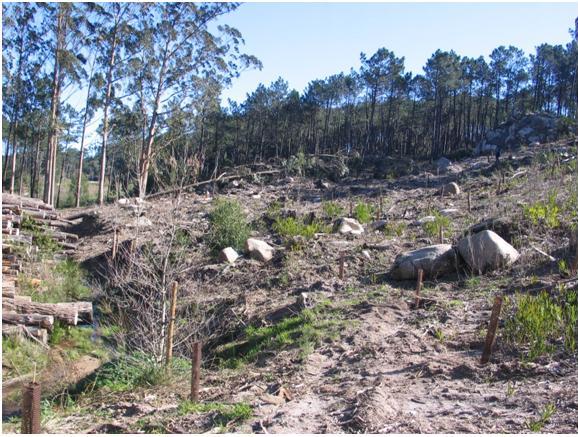 Site code AR34
Location Sintra
Region Centro
Country Portugal
Local name Sintra
Partner ISA
Site characteristics
Orientation: NW, Slope:19.0°, Soil :LEPTOSOLS, Bedrock : acid to intermediate plutonic rocks
PH :4.3,4.6
Hydrology
Site is situated in the Tagus hydrographic basin. The lower part of site is 5-10 m apart from seasonal water course, which flows along the site margin
Short History of the site
Le site de l'arboretum est situé dans le Sintra ?? Parc Naturel de Cascais. Le terrain est propriété publique, administré par Parques de Sintra ?? Monte da Lua (PSML). PSML a montré un grand intérêt lorsqu'on lui a présenté la possibilité d'installer la structure proposée. Collaborer avec PSML, qui a plusieurs projets en cours dans la recherche forestière et l'éducation environnementale, permet à la structure d'être correctement entretenu, pour l'éducation et la recherche REINFFORCE porpuse ,. L'arboretum est divisé en 2 groupes de parcelles, situées à l'intérieur de 2 sites fortifiés: -P1, à Tapada das Roças précédemment occupé par Acacia sp. et Pitosporum undulatum .; -P2, à Tapada do Mouco, précédemment occupé par Eucalyptus globulus, Acacia sp. et Pitosporum undulatum. La préparation du sol pour l'installation de l'arboretum a débuté en juin 2012, consistant principalement à couper Acacia sp., Pitosporum undulatum et à éliminer / contrôler la végétation spontanément.
Generalities of the site

Species on the site
N of Prov.
Initial tree N
Acer pseudoplatanus
3
36
Calocedrus decurrens
2
24
Castanea sativa
3
24
Cedrus libani subsp. libani
2
48
Ceratonia siliqua
1
6
Cunninghamia lanceolata
1
6
Cupressus sempervirens
2
24
Eucalyptus globulus
1
12
Eucalyptus gundal
1
12
Eucalyptus nitens
1
12
Fagus sylvatica subsp. orientalis
3
36
Larix decidua
3
36
Liquidambar styraciflua
2
36
Pinus brutia
3
36
Pinus elliottii
2
24
Pinus nigra subsp. laricio
2
24
Pinus nigra subsp. salzmannii
1
12
Pinus ponderosa
2
24
Pinus sylvestris
3
36
Pinus taeda
3
36
Pseudotsuga menziesii
1
12
Quercus ilex subsp. rotundifolia
3
36
Quercus petraea subsp. petraea
3
36
Quercus robur
1
10
Quercus rubra
2
24
Quercus shumardii
1
12
Quercus suber
2
18
Sequoia sempervirens
2
18
Thuja plicata
2
24